Trip duration: 7 days
Saturday-Saturday
Base price includes:

7 days on comfortable yacht
Skipper (english, french, german)
insider tips for restaurants, bars and trips
detailed travel documents
Arrival:
You can reach Palma by plane (Int. Airport Palma de Mallorca). Many airlines all over the world have non-stop flights to Palma.
Route:
Palma de Mallorca – Port de Sóller  – Alcúdia – Menorca – Cala Ratjada – Porto Colom – Porto Cristo – Cabrera – Palma de Mallorca
minimum number of participants: 4 persons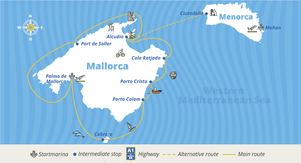 Details for your route
Palma de Mallorca
The capital of Mallorca is starting point of our journey through the gorgeous region of El mar Bareal. With its cultural and historical heritage  Palma de Mallorca offers numerous attractions and breath-taking structures. The bustling city centre alone with its museums, art galleries and vibrant nightlife is well worth a visit. The cathedral La Seu is probably the most splendid example of architecture in the city and a milestone of Gothic art.
Port de Sóller
The landscape of Sóller invites you to partake in hiking tours through the nearby mountains and gives superb views over the coast and Puorto de Sóller, the harbour of the city. The port is the perfect place to find some gifts for friends and family or just a leisurely stroll through the streets, stopping at one of the bars and restaurants for a drink or a bite to eat. If you prefer a livelier beach you can find it directly at the port or at the southern side of the bay together with a lovely promenade. Don´t miss a chance to go on excursion from Puerto Soller on the famous, nostalgic tram that travels a distance of 4 km up into the heart of the town of Soller.
Alcúdia
This city is known for its genuine natural environment and is a popular destination for holiday makers. But the main focus is on the sporting events like parasailing or windsurfing along the seashore, a welcome addition to sailing.
Ciutadella (on Menorca)
The Bishop´s town Ciutadella is our point of arrival in Menorca. The wonderful port and the charming city centre, with its attractive shops, cafés and galleries create a typical Mediterranean atmosphere and Ciutadella is described as one of the most beautiful places in Spain. A Popular meeting point in the old town is the shopping mile Calle de Ses Voltes. When you visit the palaces of the ancient nobility and churches and look upon the enchanting harbour, it makes you feel like time has stood still.
Cala Ratjada
Back in Mallorca, you will find, in Cala Ratjada, various clubs and discos, party beaches and restaurants offering exceptionally fresh fish. But you can also expect cultural and architectural masterpieces like the Villa March, the lighthouse and an impressive castle. For our adventurers we recommend the widespread mountains of Serra de Llevant and various walkable caves.
Porto Cristo
This port town offers a truly memorable experience for music lovers: a classical concert played by musicians sitting in a boot on the Martel´s lake. This giant subterranean lake is situated in the inside of the Cuevas del Drach, the Dragon´s lair of Porto Cristo.
Porto Colom
Porto Colom is a pleasant, idyllic little town in Mallorca and is considered the birthplace of the great discoverer Christopher Columbus. Little beaches and the natural harbour still illustrate the vital importance of fisheries in this place. The historical centre is considered one of the most well-preserved on the island.
Cabrera
The former prison island Cabrera is the unspoilt jewel of Balearic Islands. Great emphasis is put on nature conservation. For this reason anchoring is forbidden on this island to prevent damaging the nature of the seabed in the reserve. The museum, the castle on the top of the hill and the beach are the most famous sights.
The route can be adjusted due to weather conditions.
Yachts
Our yachts do have a comfortable saloon with complete kitchen, spacious dining table, spacious double cabins, bath rooms with shower and toilet, external cockpit with dining table, relaxation area and bathing platform with outside shower.
from 4 persons
from 6 persons
from 8 persons
General
Currency is €uro
Not included in the base price:
end cleaning (€120,- per yacht), fuel,  trips, mooring frees, food, beverages, travel insurance and tips
Skipper will be feed by the boardkitty
You need a legal travelpass
Changes possible
Prices
Base price
Yacht, accomodation, skipper
Fuel flat rate
includes fuel***
Comfort Package
includes: Dinghymotor, WLAN on bord, bedlinen, final cleaning***
 ★ Premium-Yacht-Upgrade
New yacht guaranteed (max 2 years old)
Food and fees Package
Food for daily breakfast, lunchsnack and all mooring fees
★★ Hostess-Service
* minimum participants: 4 people | if there is cabin booking (1-3 people) other persons will be added. All quoted prices are final according to § 19
**at 6 personsn or more 5% discount on all services, at 8 persons 10% discount on all services
***fuel and final cleaning (€ 120,-) must be payed from the boardkitty
p.person**
€ 650,-*


€ 40,-*

€ 50,-*

€ 149,-*

€ 249,-*

€ 449,-*
Booking form Balearic-Package
Choose a free date and give us your number of people.
If you want to select additional services, select the appropriate package.
If your date is not possible because of overlaps, we will contact you shortly.